NEWS
Cowboy Bebop – Faye Valentine Statue now available for pre-order
16 July 2020
First 4 Figures is proud to introduce their latest collectible! Cowboy Bebop's Faye Valentine statue. Pre-orders are now open and for a limited-time offer, earn a 10% DISCOUNT and BONUS F4F reward points during our EARLY BIRD SPECIAL. Promo ends on 28 July 2020, 4:00 PM HKT (Hong Kong Time).
Everyone, great news! Cowboy Bebop fans and those who love awesome statues can rejoice. First 4 Figures proudly presents their latest addition to the family, Faye Valentine. Faye is the no-nonsense, ass-kicking 70-year-old (yeah, she looks great for a 70-year-old!) from the legendary anime Cowboy Bebop. Pre-orders are now open for both the standard and exclusive edition, each having their own unique features and look. Each statue is beautifully crafted and will make an amazing addition to any collection.
You can find out more by going to First 4 Figures and searching for Faye Valentine statue, or simply follow the link below. You can also see a quick look at both the standard and exclusive editions as well.
https://www.first4figures.com/blog/cowboy-bebop-faye-valentine-statue-launch.html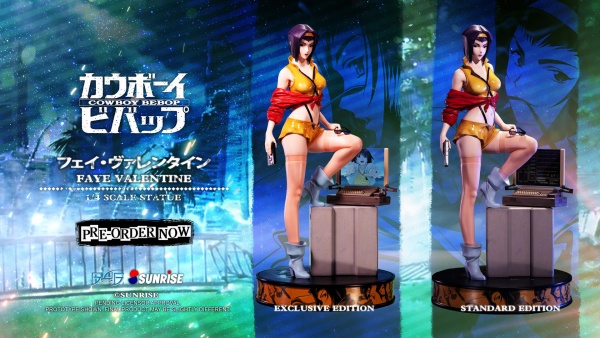 In the meantime, check out the reveal video below and get your pre-orders in now for an early bird discount! Also, check out the other statues in the Cowboy Bebop collection from First for Figures!