NEWS
Game-News at MCM London 2019 - October with Jason Momoa, Nolan North, Troy Baker and more!
06 November 2019
Well it's that time of year again! London MCM came and went and as always it had brilliant cosplays, awesome food and treats for gamers, anime fans and comic book readers. So as every year, Game-News decided to tag along and check out the sights, smells and sounds of London MCM. How was it this year? Well read on and find out.
London MCM usually has a big guest who comes along and hangs out with the fans, taking photos and signing autographs. It's just typical of any con. Simon Peg was there and he was a good sport, hanging with fans and having a great time it seems. While Simon Peg is great, there was another guest there. Someone you may have heard of…
Jason Momoa!
Yeah, Jason Momoa was there as a surprise it seems. He was there on Friday, along with a few other guests including Alfre Woodard for their new show "See" which will air exclusively on Apple's streaming service. See is a show about the events of a deadly disease which has killed almost all humanity and those left alive are now blind. The show has an interesting concept and seems to hit the right notes on a show that could be utterly compelling from beginning to end. But the cast including Jason Momoa and the show's creator Steven Knight (Peaky Blinders, The Detectives) was there as well. Jason Momoa was also a great sport who had a few laughs and spoke in detail about his role in the upcoming show. Check out the photos below!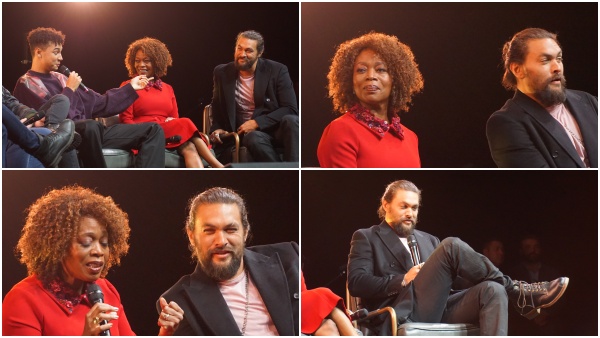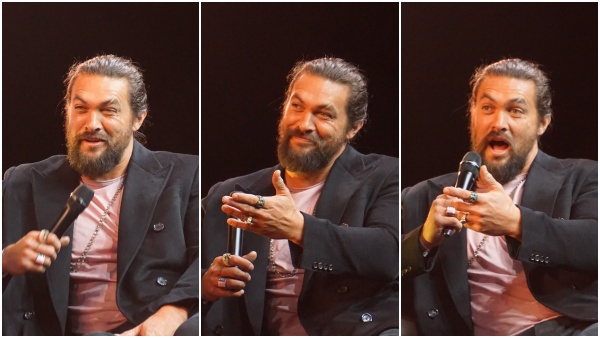 So aside from Jason Momoa and Simon Peg, there were other highlights. Gamers who couldn't go to EGX last weekend could try out some of Sony's biggest highlights including Final Fantasy 7 Remake and see the gameplay footage for Cyberpunk 2077. It was odd not seeing Nintendo there as they usually are along with other companies such as Bandai Namco. Despite Nintendo not being there, gamers had enough to try out. Xbox had a small area which essentially was a lounge area where gamers could try out a number of games and get free Ultimate passes for their time. The lounge was pretty small mind you and children were taking up most of the longue! But the offer was neat! Xbox just needed more space like Sony, who was really the kings of the gaming areas for MCM.
Aside from gaming, there were plenty of food stalls which offered a selection of wonderful treats that were savoy and sweet. The waffle place was the best! But if you liked Japanese snacks, mains and sweet, there were plenty of stalls for those as well. Foodies would do their best to come along just to try out all the wonderful food there.
Well it wouldn't be MCM without shopping and wow! There' was a whole hall (near half the Excel centre) filled with shops and stalls selling everything from Plushies, gaming statues, comics, figures, rare Blu-rays, posters and t-shirts! While I do enjoy some of the main stands, it's the smaller merchants that craft their own, interesting items which should really get more attention. Some of my favourites include the hand made Pokemon inspired snow globes and glass bubbles. Then I saw a pixel craft inspired stand which offered badges and other pixel inspired items. Plus there was something shaped like the Goose from that extremely famous Goose game!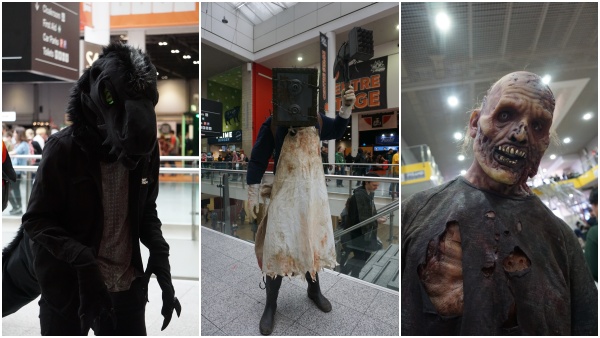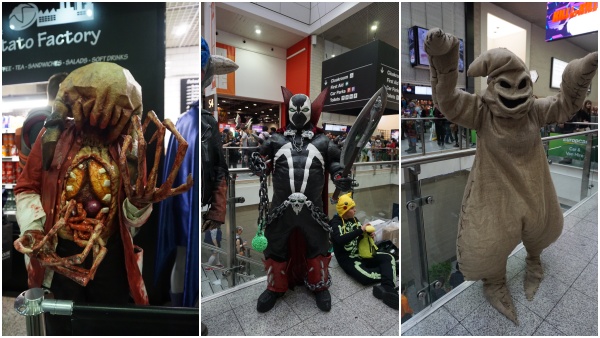 The stalls are always a treat for as they do tend to cover most things any gamer, anime fan or collector would be looking for. The layout was changed around this year and I wasn't a fan of it as it didn't separate the stalls into areas depending on what they sold. Like normally the gaming stuff would be top of North hall but this year, it wasn't. All the gaming stuff and other stalls were merged around and it felt a little scattered. But at least the Funko Pop stand was centre stage as always!
Also a big shout out goes to this cosplayer, for their awesome costume as Elle from The Last of Us with a Ticker attacking them!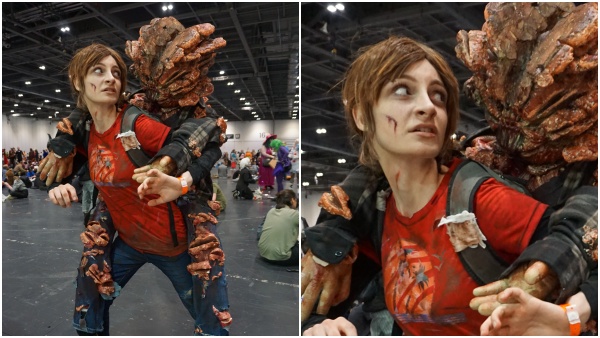 So MCM at the end of the day does what it does best and gather people from over London, around the South East and even some people from aboard to join up for their love of comics, gaming, anime, film and food! It's amazing to see over ten years how MCM has bloomed and how so many people have come out of their shells to express and enjoy what they love. Over the last few years I will say MCM has been incredibly strong and done their best job since it started a lifetime ago. But there needs to be more in order for it to keep its appeal over the next decade. While the guests are getting better and the scale surely has expanded, there needs to be less focus on the consumerism and more on appreciating the fans and offering them a unique experience.
NYC Comic con is immense in comparison and MCM can surely take it to the next level!