COMPETITION
Win a Zippo Retro Gaming Lighter + Arc Insert
Retro gamers – this one is for you! Iconic lifestyle brand Zippo has launched a collection of retro gaming design lighters, emblazoned with throwback graphics that'll bring back memories to the arcade and retro 8-bit joy.
The designs Press Start, Play & Win and Space Game will stir up feelings of nostalgia – as well as the desire to dig out that old SEGA or SNES console (or just download them for a walk down memory lane!)
Available to purchase from the Zippo online store, these must have collector items are priced at £39.95. The collection are also available to purchase with the new
Zippo Arc Lighter Insert
– a double beam insert that offers a windproof flame source that can easily be recharged – available for £21.95.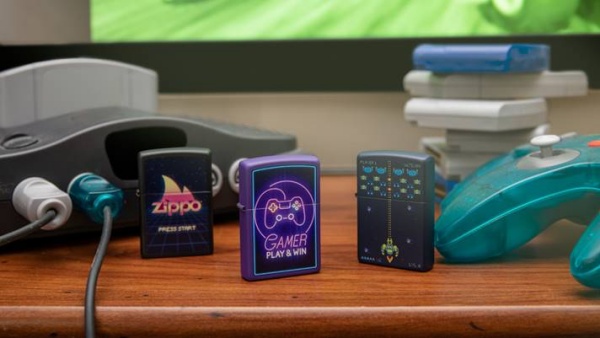 Zippo also recently announced a partnership with leading Call of Duty League team Chicago Huntsmen to promote their HeatBank 9s gaming products and have an ongoing and expanding collection of Assassin's Creed design lighters.
To enter just answer this question.

How many lighters make up the new Zippo Retro Gaming Collection?

A: 1
B:2
C:3

Just send your ANSWER on an email with ZIPPO in the subject line to comps@music-news.com please include your NAME, EMAIL, ADDRESS & TWITTER HANDLE (if available).

It's that simple! Best of luck!

You can double your chances by liking & retweeting the competition on our new Competitions Club page @competitionsC. Good luck & tag friends for extra entries.

For more competitions entries visit our network sites Music-News.com, Theatre-News.com and Game-News.co.uk.

Get the competitions delivered directly to you by signing up to our newsletter here.

Promoter Terms and conditions.