COMPETITION
WIN! The Predator prizes! In cinemas and IMAX 3D Sept 12
Nothing can prepare you for #ThePredator.
From the outer reaches of space to the small-town streets of suburbia, the hunt comes home in Shane Black's explosive reinvention of the Predator series. Now, the universe's most lethal hunters are stronger, smarter and deadlier than ever before, having genetically upgraded themselves with DNA from other species. When a young boy accidentally triggers their return to Earth, only a ragtag crew of ex-soldiers and a disgruntled science teacher can prevent the end of the human race.
Starring
Boyd Holbrook, Trevante Rhodes, Jacob Tremblay, Keegan-Michael Key, Olivia Munn, Sterling K. Brown, Alfie Allen, Thomas Jane, Augusto Aguilera, Jake Busey
and
Yvonne Strahovski.
Directed by
Shane Black, THE PREDATOR
arrives in cinemas and
IMAX 3D on Sept 12
.
Film-News.co.uk is offering:
Prize for 3 (three) winners will be 1 (one) merchandise bundle consisting of x1 (one) Predator keychain, x1 (one) bottle opener, x1 (one) mug, x1 (one) T-Shirt, x1 and x1 (one) notebook
To be in with a chance of winning, simply answer the following question:

Name the director of THE PREDATOR:

A: Shane Black
B: Michael Bay
C: John Woo

Just send your ANSWER on an email with THE PREDATOR in the subject line to comps@film-news.co.uk please list your NAME, EMAIL, ADDRESS & TWITTER HANDLE (if available).

It's that simple! Best of luck!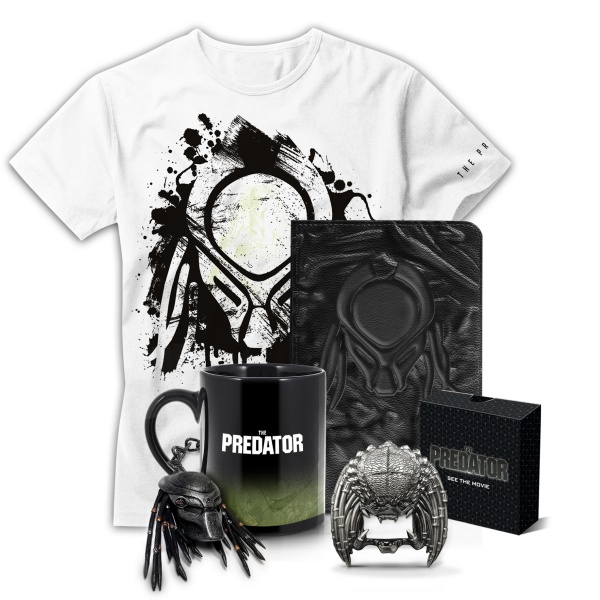 You can double your chances by liking & retweeting the competition on our new Competitions Club page @competitionsC. Good luck & tag friends for extra entries.

For more competitions entries visit our network sites Music-News.com, Theatre-News.com and Game-News.co.uk.

Get the competitions delivered directly to you by signing up to our newsletter here.

Promoter Terms and conditions.